13" to 17" Double J Hi-Tech Roper SDR212
Product Details
Western Saddle Seat Size Calculator
Please try our new seat sizing tool to find your size
Calculated Seat Size Shown Below
Please select your body shape:
Do you prefer a tighter Barrel Fit?
Are you fitting for a Tucker Saddle?

There is a lot of room for personal preference with seat sizing, but as a general rule it is better to error on the side of ordering a seat size that is too large rather than erring on the side of a seat that will be too small.
Things to Consider
Tucker adds 1/2inch to their seat sizes (due to thick seat padding)
16.5" Tucker = 16" normally


Barrel riders usually take 1" less on the seat size
16" Trail Rider = 15" Barrel Rider


Ranch (slick seats) usually ride smaller (1/2inch seat size) so they don't slide around
16" is for most men, 15" for most women


Trail Saddles with High Cantles (5") make the seat sizes feel smaller
Trail Saddle with 5" cantle will feel smaller in the seat than one with a 3.5" cantle


English Saddles don't convert exactly but often are 2" bigger
18" English = 16" Western


Riders with inseams under 30" or 5' tall and under often need custom cut fenders
Tall riders with long legs but lighter weight may need custom cut fenders as well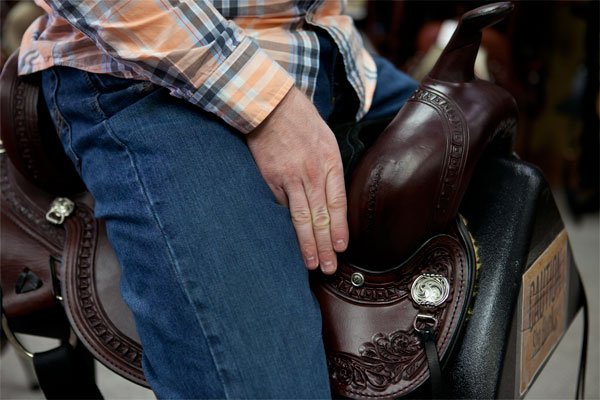 Checking the Fit
General Guideline is about 3 fingers between your thigh and the swell.
Similar Products
Robyn Lebo from Facebook
Extremely good to deal with very helpful. I just can't recommend these guys enough. Considering I am in Australia they were extremely good to deal with very helpful I recommend them 150% saddle was packed well and it's beautiful very happy customer 5 start rating hands down.
Giustina Lee from Nevada
Incredibly streamlined and easy. I am absolutely blown away by the service horse saddle shop provided me. I am naturally a very indecisive person and incredibly picky when it comes to my gear, so after months of shopping and reading my boyfriend suggested here. He also had a positive experience. I browsed their wide selection of used saddles and there it was, MY saddle. The chat staff was incredibly helpful and my saddle was here 4 days later even with free shipping! The saddle was accurately represented in the photos is far from "used". I'm thrilled, to say the least. Thank you!
Tiffany Wilson from Facebook
After so much searching and being nervous about ordering a saddle online. I picked up the phone and called the Horse Saddle Shop to ask a few questions about a used saddle that was on their website. They were so nice and helpful. I ordered my very lightly used Circle Y saddle and a new saddle pad. It arrived very quickly. Only a few days. I LOVE my new saddle. In great condition and rides great! I would highly recommend using them for your tack needs. I know I will be in the future!
Ronda Trosper via Facebook
Customer service is amazing! Super quick shipping! My first saddle didn't fit correctly, they helped me find the right fit for both my horse and me, and we love our new Circle Y Kentucky gaited ❤ thank you Horse Saddle Shop!
Pamela D'Amore, via Facebook
Amazing and knowledgeable to work with! Best prices and they know their products well. Traded in a saddle and used it as a down payment on a new saddle. Very speedy shipping. Over all VERY happy.
Gretchen Klett
I am so happy with the saddle I just bought as a surprise gift for my partner. He was so happy and loves it. I love the customer service and deals you offer if you wait for them. Thank you Horse Saddle Shop we have 2 saddles from you now and couldn't be happier. I have also bought boots here too and they did not fit, HSS was great with the return.